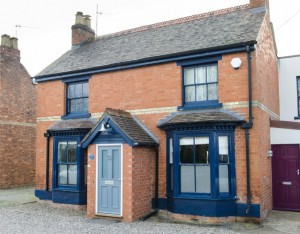 DIRECTIONS FOR VISITORS TO TOP OF THE HILL, WYRE HILL, WYRE PIDDLE WR10 2HS:
Telephone 01386 550136
'Top of the Hill' is the only house on Wyre Hill without a nameplate. Paintwork is dark blue, with white window surrounds.
There is a sign for Pershore Osteopathic Practice on the brick 'hit and miss' wall as you come up Wyre Hill towards Pinvin.
There are two entrances/exits to the gravel drive at the front where you can park.
Please do not ring on the doorbell or knock until your appointed time, there is no receptionist or waiting room (if both consulting rooms are occupied).
As there are two practices and consulting rooms at the front of the house, please do not wait for your appointment on the drive at the front if you are early. Please also do not linger on the drive after your appointment as (if both practitioners are working) there are appointments going on all the time. There is a layby opposite and further up the road out of sight of the house by a level crossing where you can wait until the parking spaces become free.
Dev is and Osteopath and Acupuncturist in the bay window to the right of the front door. Eleanor's consulting room is on the left.
Alternatively, if you are very early for your session, the village of Wyre Piddle is a lovely one to stroll around and there is a riverside field (Smiths Meadow) down Church Lane which you can enjoy. Piesse of Piddle (the hotel) and the Anchor Pub are both riverside and serve hot and cold drinks. Pershore, with many lovely cafés and shops, is about 5 minutes away.
A cloakroom is available during your session time. If both consulting rooms are in use, access to this is out of the front door and in to the purple door on the right hand side of the building. Your practitioner will direct you in any instance.